Astrology > Birthday Central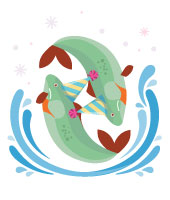 March 17, 2018
Happy Birthday
Pisces
Today ...
Not only to you have the luck of the Irish, you have the heart of a Pisces! Anyone would be more than lucky to have you in their life.
Your Pisces Horoscope:
Exploring the wide variety of options before you is likely to bolster your self-esteem. The rewards are greater than anything you might receive by playing it safe and sticking to what you already know. The dreamy Pisces Moon sensitizes your 1st House of Self, opening your psychic channels and putting you in touch with your heart. Thankfully, a refreshing wave of social awareness encourages you to get to the core of the matter without upsetting anyone. You have access to everything you need to be happy once you set aside your doubts. Follow the flow of your positive feelings and you can't go wrong.
.
Facts About Today
This day in history ...
March 17th The first St. Patrick's Day parade was held in NYC in 1762. In 1969, Golda Meir was sworn in as prime minister of Israel. In 2003, Bush delivered his ultimatum to Saddam Hussein to leave Iraq.

Your Link to Fame!
Famous people born on this day:
Billy Corgan
Kurt Russell
Rob Lowe
Party Like a Pisces!

What to Wear: Soft pastels and relaxed-looking shirts, pants and skirts. Fairy godmother and knight in shining armor outfits are optional.

What to Eat: Clam chowder, shrimp cocktail, baked fish and sea scallops.

Guests: All the millions of people who find their way into sentimental Pisces' humongous heart.

Location: Any water lover's paradise like a river, pool, or the beach.

Cake: Raspberry rum cake. Like Pisces, it's wet, wild, beautiful, and packs a little punch.