Free Love Readings & Reports (see details)
Big Picture Astrology Love Forecast
Burning Question Tarot Reading
Happily Ever After Tarot Reading
Numerology Compatibility Profile
Passion Quest Tarot Reading
Quick Compatibility Astrology Profile
Romantic Compatibility Astrology Report

Free Tarot Readings (see details)
Career Tarot Reading
Celtic Cross Tarot Reading
Karmic Situation Tarot Reading
Peace & Harmony Tarot Reading
Tree of Life Tarot Reading
Weekly Forecast Tarot Reading
Yes or No Tarot Reading

Free Astrology Reports & Forecasts (see details)
Big Picture Astrology Forecast
Essential Astrology Birth Report
Essential Chinese Astrology Profile
Life Purpose Astrology Report
Personal Moon Astrology Report
Astrology Reincarnation Report
Rick and Jeff's 30-Day Astrology Forecast

Free Numerology Reports (see details)
1-Year Numerology Forecast
Diamond Numerology Report
Lucky Numbers Numerology Report
Numerology Name Advisor Report
Numerology Personality Profile
Numerology Reflection Reading
Numerology Talents Profile
FEATURED FREE REPORT!
Free Love Compatibility Report

See if your relationship has what it takes for romantic chemistry and lasting love. A Romantic Compatibility Astrology report reveals if you've found the missing piece of your puzzle.
Get a FREE Compatibility Astrology Report »
---
Top 5 Free Reports & Readings
Frequently Asked Questions
• Is it really FREE?
Yes, our program is free. We're able to offer free products thanks to ... More »
• Am I going to be billed later?
No, you will never be billed by us for the free reading or report you receive. More »
• Do I have to buy something first?
You have to try or purchase a TrialPay advertiser offer before you receive ... More »
• How long does it take to get my free stuff?
It depends on on which advertiser offer you try or purchase. Once you are ... More »
Want Free Readings and Reports? Here's A Tip!
Watch for the button with the shopping cart!
Anytime you're browsing Tarot.com and see this button, you will know that the reading or report is available through TrialPay's Free Readings and Reports Program!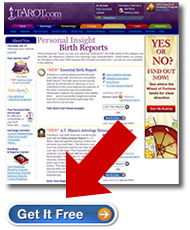 Just click on the Get it FREE! button, try or purchase a partner offer and you'll be on your way to enjoying that product for FREE.